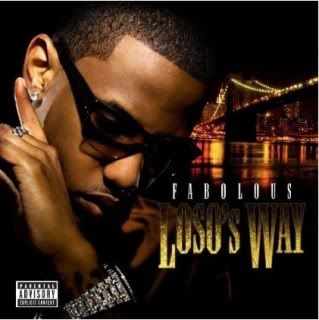 Loso's Way is probably, and Im definitely going to make it a statement,the best Fab album of all time.
"Ghetto Fab" comes in second because Fab was at his hungriest, while "Real Talk is third and a tie with "From Nothin' to Somethin'", because he stepped up lyrically and cleared the monkey off his back after "Street Dreams" and with "From Nothin' To Somethin' he made a comeback. "Loso's Way" overall was and is his best album to date. Although it wasn't a "classic" like he kept mentioning, but it was that DAMN GOOD.
He had his
"lovey dovey"
female tracks but they managed to benefit the album as well due to his wordplay, beat selections, and choice of collaborators (Yes "Everyday, Everything, Everywhere" is banger). The beat selections again was another plus, from the flaring horns on "Imma Do It" to the bass knocking drums on "Salute" it had to be a crime to not bump this album in the whip during the summertime. Lyrically, Fab proved to be the next up after Hov to take over Brooklyn and this East Coast rap thing (yea i said it. He crushed every other album that releaed before him and even some after. The only flaw was the theme, which wasn't really clear when you get up to "Throw it in the Bag" but, I could take that. It wasnt a classic, but definitely the best album in his catalog.
P.S: Hit us up with some more storytelling and introspecitive sh*t on the next album Los. lol