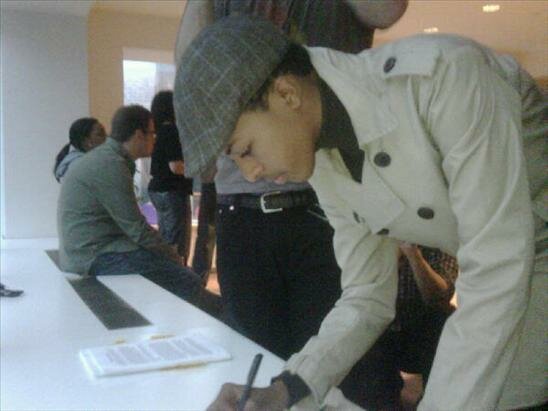 According to Atlantic Record's new signee, Diggy Simmons (Rev Run's middle child), #JoJoMustFeel...
"...like a proud brother, is all I gotta say. Everything everybody was saying [about him being jealous]… he didn't even feel that way. The jokes on them, cause they're stupid. People always like to put a negative play on a positive thing. But he was super excited for me."
Yesterday, Diggy signed a recording contract with Atlantic Records, cementing an historic moment in his life.
"[
Atlantic
is] really hip to my vision and they work the way [artists] want to work by giving them a lot of creative freedom. And their team is amazing; everybody's real cool and just as excited as me to get started on my project," he says. "Honestly, I'm just super duper thankful for the opportunity that
Atlantic
gave me and every other label. I won't even say that it was overwhelming. It was just surreal."

This is definitely a big moment for the 15 year-old, aside from being part of hip-hop's 'royal' family, Diggy is actually dope and could actually spit...waaaaaay better than his big brother (sorry man but he's garbage compared to Diggy). It's amazing that his talent was picked up with the quickness and will now reach a broader audience.

Good Luck lil' man