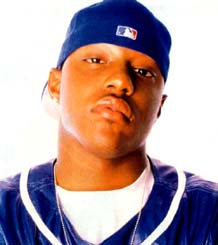 Okay I know today isn't Friday but, I wanted to post this video/song by the homey MA$E. As some of you may know Mase was undoubtedly the biggest rapper out of NewYork in the late '90s, post B.I.G. and 'Pac era. In other words, he was the sh*t. His buzz was enough to make him the new, what many describe as, B.I.G's replacement. Further on, back then after the release of his fan favorite debut album, Harlem World, Mase and another big guy out of NY had some beef that stemmed from a verse on 112's single "Love Me".
On the track, Mase recites
"All I hear is platinum that, platinum this, platinum whips nobody got those platinum hits..."
Now an average listener to this verse would respond by saying that it isn't specifically aimed at anyone but, Jay-Z didn't take a liking to this. In the move to shut down the Harlem MC, Hov responded with subliminal shots on track four off '98's "Vol. 2...Hard Knock Life LP "Ride or Die"...
"N*ggas talking real greasy on them r&b records
but I'm platinum a million times n*gga, check the credits..."
It didn't stop just there, Hov went on to lyrically disintegrate the rapper further bars later which would officially cause Mase's career casualty.
"...shocked when I got the news that
this nigga ready for war, well where that fool at?
I bruise wack rap niggaz severely punish them
Especially those that get fucked for they publishing, heh..."
**insert knockout smiley face**
But, what was rarely discussed was the secret track that Ma$e failed to put out titled "I'm No Killa" (which was suppose to be off his "Double Up" LP in '99) where he goes at Hov. Below is the track but, does it even come close to "Ride or Die"
**Turns out the video was disabled by request, so above is the link**
So if you heard the above track, it wasn't that bad. In fact, it's one of the reasons why Mase is in my Top 5 Dead or Alive (yup I said it and meant it). He proved that even the knockout punch by the below track, he can lyrically put up a fight. But, at the end of the day you're going against Hov...